Three days of mourning declared after magnitude 6.1 quake hits country's south, while nuclear plant in region is declared safe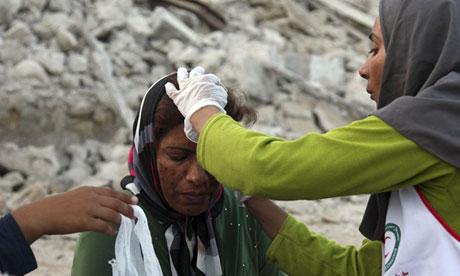 A magnitude 6.1 earthquake killed at least 37 and injured hundreds more in a sparsely populated area in southern Iran on Tuesday, Iranian officials said, adding that it did not damage a nuclear plant in the region.
The report said the earthquake struck the town of Kaki, 60 miles (96km) south-east of Bushehr on the Persian Gulf and home of Iran's first nuclear power plant, built with Russian help.
"No damage was done to Bushehr power plant," the Bushehr provincial governor, Fereidoun Hasanvand, told state TV. He said 37 people had died so far and 850 were injured, including 100 who had been taken to hospital.
The plant's chief, Mahmoud Jafari, confirmed the site's condition to semi-official Mehr news agency, saying that it could resist earthquakes of up to magnitude eight.
Water and electricity were cut to many residents, said Ebrahim Darvishi, governor of the worst-hit district, Shonbeh.
The International Atomic Energy Agency indicated it was satisfied there was little danger. The UN's nuclear watchdog said it had been informed by Iran that there was no damage to the plant and no radioactive release and, based on its analysis of the earthquake, was not seeking additional information.
Shahpour Rostami, the deputy governor of Bushehr province, told state TV that rescue teams had been sent to Shonbeh. Three helicopters surveyed the damaged area, said Mohammad Mozaffar, the head of Iran's Red Crescent rescue department. He said damage was particularly bad in the village of Baghan.
Kaki resident Mondani Hosseini told the Associated Press that people had run into the streets out of fear.
Dozens of aftershocks were reported by the official IRNA news agency. Iran has announced three days of mourning.
The quake was felt across the Gulf in Bahrain, the United Arab Emirates and Qatar, where workers were evacuated from high-rise buildings as a precaution.
Earlier on Sunday a lighter earthquake jolted the nearby area. Iran is located on seismic faults and it experiences frequent earthquakes.
In 2003, about 26,000 people were killed by a 6.6 magnitude quake that flattened the historic south-eastern city of Bam.
In Russia, the head of the state agency responsible for the Bushehr project said the reactor was not producing fission by chain reaction when the quake hit. "Personnel at the station are continuing to work in a normal regime, the radiation conditions are within the norms of natural background," Igor Mezenin was quoted as saying by the Itaar-Tass news agency.